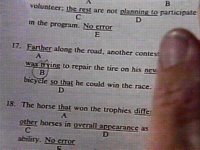 Episode Notes





(Ep 47 - "Growing Up")



The book Karen is reading in the car is "The Harrad Experiment" about sexual experimentation at Harrad college. Also made into a 1973 movie with Don Johnson and Tippi Hedren.
*
This episode is my candidate for the best single episode to represent the whole series. It has all the major characters, and the right theme - "Growing Up".

*
I could see us now, side-by-side on the infield...Tinker to Arnold to -

"Baseball's Sad Lexicon" or "Tinker to Evers to Chance" is a 1910 baseball poem by Franklin Pierce Adams. The poem is from the point of view of a New York Giants fan watching the Chicago Cubs infield of shortstop Joe Tinker, second baseman Johnny Evers, and first baseman Frank Chance complete a double play. These three players helped the Cubs win four National League championships and two World Series from 1906 to 1910.

These are the saddest of possible words:
"Tinker to Evers to Chance."
Trio of bear cubs, and fleeter than birds,
Tinker and Evers and Chance.
Ruthlessly pricking our gonfalon bubble,
Making a Giant hit into a double –
Words that are heavy with nothing but trouble:
"Tinker to Evers to Chance."

*
Great story. Interesting effect in the ending. As everyone heads out to the car to see Karen off, the film goes to "home movie quality, with sprocket sounds and streaks" (nothing new here). Then as the camera follows the car down the street, the focus goes in and out, and finally, the camera shoots the asphalt as the videographer starts to turn off the camera. See (actually don't because it's gone) Ken's page for more on this and how it is combined with lyrics of "Forever Young":-) (The reverse effect occurs going from "home movies" of earlier picnics to the present picnic, as the Arnold's are sitting at the table.)

Also "Full Transcript"




(Ep 48 - "Ninth-Grade Man")



Great visuals, such as the moon turning into a pizza. Comparisons to evolution, and the apes from "2001: A Space Odyssey". Barbella is referred to as a "gorilla". Kevin is totally smitten with the new girl in school, Madeline, in a "haaaawwwwaaaugh" way :-). Kevin gets slugged by Becky ("Great Sitting Bull herself") again, after Kevin beats her running laps and exults in his victory ("2001" theme music). Near the end, Madeline kisses him for being nice to her, and says, "You don't know how hard it is being the new girl in school." Kevin is a little worried at the end, as he is sitting with Winnie in the Pizza Barn, and Madeline pauses then passes by his table. Winnie is oblivious to Madeline, and says "You don't know how hard it is to be the new girl in school". Clever episode all the way around.
*
"Sitting Bull" was the name given to the Souix indian chief who defeated General Custer at the battle of Little Big horn.

Also "Full Transcript"




(Ep 49 - "The Journey")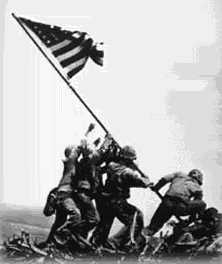 (Clip of a group of Marines raising the second US flag on the top of Mt. Suribachi on Iwo Jima.)


On February 23, 1945, U.S. Marines raised the American flag on the summit of Mt. Suribachi on the heavily defended Japanese held island of Iwo Jima. The event, captured by Associated Press photographer Joe Rosenthal, is one of the most famous photographs ever taken. However, that photograph was of the second flag raising on Mt. Suribachi.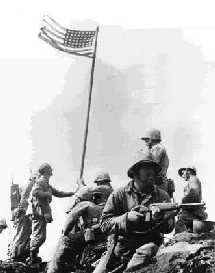 E Company, 2nd Battalion, 28th Marines, fought their way to the crater rim. They found a discarded length of pole and tied a small American flag to its end. After five days of bitter fighting, the flag could be seen by the support ships off-shore (the wounded were heading back to these ships, and the fresh troops were coming in). The Marines, clinging to the rocks and fighting for advantage in the plains below, were motivated by the flag, too. Hopes of victory were renewed, and the fighting spirit of the men was restored. Marine photographer Lou Lowery took a series of pictures capturing the first flag raising but they were not immediately published.

Rosenthal's photo of the second and larger flag raised later in the day was so utterly remarkable that Lowery's shots took a back seat. In the States the Rosenthal photograph ran in every newspaper and magazine coast to coast.


Also "Full Transcript"




(Ep 50 - "Cost of Living")



Originally, I didn't much care for this "golf" episode, but I've come to appreciate some of its finer aspects, such as Kevin using the same phrases as Jack does ("he's busting my hump", and of course, "whatever you say, Ken"). The opening scene about "that negligible chunk of change" - allowance, is one of my favorites.

Also "Full Transcript"




(Ep 51 - "It's a Mad, Mad, Madeline World")



Great fantasy scene of Kevin and Madeline in French class. Madeline stands up and professes her love for Kevin (in French, with subtitles.) Kevin asks her "Voulez-vous du beurre?" (Do you want some butter?) When Madeline shows up just in time at the movies and returns the bracelet Winnie gave Kevin, it is symbolic of showing Kevin she has power over him ("Kevin Arnold" in the palm of her hand). In the movie "Schindler's List", Schindler tells the murderer Goeth..."Power is when we have every justification to kill, and we don't."

Also "Full Transcript"




(Ep 52 - "Little Debbie")



ALVIN: "Sunrise, sunset - swiftly flow the years"..."Seedlings turn overnight...to sunflowers."

Alvin's weepy dialog is based on the song "Sunrise, Sunset" from the musical "Fiddler on the Roof", about life in a Jewish family.

Sunrise, sunset
Sunrise, sunset
Quickly fly the days
Seedlings turn overnight to sunflowers
Blossoming even as we gaze

Sunrise, sunset
Sunrise, sunset
Swiftly fly the years
One season following another
Laiden with happiness
And tears

Also
"Full Transcript"


(Ep 54 - "The Sixth Man")



(B/W clip of female sprinters (led by Wilma Rudolph?)

Wilma Rudolph was born prematurely on June 23, 1940 and weighed only 4 1/2 pounds. The bulk of her childhood was spent in bed, suffering from double pneumonia, scarlet fever and polio. After losing the use of her left leg, she was fitted with metal leg braces when she was 6. Despite whooping cough, measles and chicken pox, Rudolph was out of her leg braces at age 9 after several years of treatment and her own determination. She started playing basketball, and then went into running track. She was the first American woman to win three gold medals in one Olympics, in 1960. In the 100-meters, she tied the world record of 11.3 seconds in the semifinals, then won the final by three yards in 11.0. However, because of a 2.75-meter per second wind -- above the acceptable limit of two meters per second -- she didn't receive credit for a world record. In the 200, she broke the Olympic record in the opening heat in 23.2 seconds and won the final in 24.0 seconds. In the relay, Rudolph, despite a poor baton pass, overtook Germany's anchor leg, and the Americans took the gold in 44.5 seconds after setting a world record of 44.4 seconds in the semifinals. Wilma died of brain cancer at age 54 on Nov. 12, 1994.
*
(B/W clip of Jesse Owens performing a long jump.)

Born James Cleveland Owens on Sept. 12, 1913, "Jesse" was often ill as a child, suffering from both chronic bronchial congestion and several bouts of pneumonia. After setting national track records in high school, Owens attended Ohio State University. In his junior year, Owens competed in 42 events and won them all, and on May 25, 1935, at the Big Ten Conference Championships, Owens broke three world records and tied a fourth, all within 45 minutes. In the 1936 Berlin Olympics, he won four gold medals - 100 meter dash in 10.3 seconds (tying the world record), long jump with a jump of 26' 5 1/4" (Olympic record), 200 meter dash in 20.7 seconds (Olympic record), and 400 meter relay (first leg) in 39.8 seconds (Olympic and world record). In racially segregated America, after returning to New York and a ticker-tape parade, Owens had to ride the freight elevator to a reception in his honor at the Waldorf-Astoria. Owens, a pack-a-day smoker for 35 years, died of lung cancer at age 66 on March 31, 1980 in Tucson, Ariz.

*
PAUL: Hondo's bringing the ball up court - he's looking good, folks.

Widely regarded as the best sixth man in NBA history, John "Hondo" Havlicek combined his running ability and endurance to establish a style of constant movement on offense and defense that frustrated opponents and added to the Boston Celtics' dominance. Coach Red Auerbach described Havlicek as the "guts of the team." The man who popularized the integral role of the sixth man was a collegiate star at Ohio State. In 1962, Havlicek was drafted by both the Boston Celtics and the NFL's Cleveland Browns. After being cut by the Browns in training camp, Havlicek began a celebrated 16-year career with the Celtics. Havlicek played for the Boston Celtics from 1962 to 1978 and won a total of eight NBA championships with them in 1963-66, 1968-69, 1974, and 1976. He became first player to score 1,000 points in 16 consecutive seasons.
*
KEVIN: And besides, "Mission: Impossible"'s on at four th-

"Mission: Impossible" was a 168-episode TV show in the late '60's and early '70's that revolved around a small group ("The IMF team") of spies that used various technological tricks and other deceptions to pull off complex rescues or other heroic deeds. Most assignments were given via a tape recorded message, all of which include "should you or any of your IM Force be caught or killed, the secretary will disavow any knowledge of your actions." And finally the tape would smoke in self-destruction.
*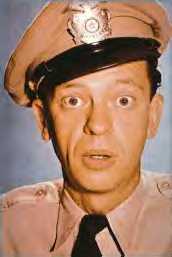 Paul Pfeiffer on a basketball team was like Barney Fife working for the FBI.

"Barney Fife" was the high-strung, over-enthusiastic, lovable-but-bumbling deputy sheriff played by actor Don Knotts on "The Andy Griffith Show" and "Mayberry, R.F.D."






Also
"Full Transcript"


(Ep 55 - "A Very Cutlip Christmas)



"It was Santa's Last Stand."

General George Armstrong Custer and all his men, about 260 or so, were famously and quickly killed by several thousand Sioux and Cheyenne in 1876 - an event known as "Custer's Last Stand".

Also "Full Transcript"




(Ep 56 - "The Candidate")



It was then that I learned my first lesson on the campaign trail. Ideas and concepts are nothing, compared to...freshly baked Rice Crispy treats.

Recipe from Kellogg's web-site...(Kyle's note - there are infinite variations - chocolate, etc...) :
3 tablespoons margarine or butter
1 package (10 oz. or about 40) regular marshmallows or 4 cups miniature marshmallows
6 cups Rice Krispies cereal

1. Melt margarine in large saucepan over low heat. Add marshmallows and stir until completely melted. Remove from heat.
2. Add Rice Krispies cereal. Stir until well coated.
3. Using buttered spatula or waxed paper, press mixture evenly into 13 x 9 x 2-inch pan coated with cooking spray. Cut into 2-inch squares when cool. Best if served the same day.
*
At least they wouldn't have Kevin Arnold to kick around anymore.

On November 6, 1962, Richard M. Nixon, the Republican presidential candidate in 1960, was defeated by Democrat Edmund "Pat" Brown in his bid to be California's governor. The next morning, Nixon conceded defeat in one of the most bitter speeches of his political career. Blaming a biased press for Brown's resounding victory, Nixon announced that he was leaving politics.

"You won't have Nixon to kick around anymore, because, gentlemen, this is my last press conference."

The next year, he left California and moved to New York City, where he joined a successful Wall Street legal firm. However, in 1966, his effective campaigning for Republican congressional candidates won him new popularity in the party. Two years later, he entered the race for the 1968 Republican presidential nomination, and carried all of the important primaries. On August 8, Nixon won the nomination, and on November 5, the presidency.

Also
"Full Transcript"


(Ep 57 - "Heartbreak")



This episode is jam-packed with little details. The exhibit film narration about "ice ages" and "continental drift" closely parallels the frosty situation between Kevin and Winnie. Clever episode. Hanky warning!

Also "Full Transcript"




(Ep 60 - "Courage")



Well, we can all relate to the fear of going to the dentist to get a cavity filled. If we had the good fortune of having Miss Hasenfuss assist, maybe it wouldn't have been so bad. No earth-shaking concepts in this episode, but it has a few good moments, particularly the scene where she makes Kevin feel like a man - by asking him to spit.
*
Mark B. Perry wrote..."The episode was called "Courage." I have no idea where "The Law of Cavity" came from." (Kyle's note: On some episode lists, several episodes have had "secondary titles" attached to them, which are not "official").
*
It was time to seek help from the Grand Poo-Bah of tooth decay himself.

The "Grand Poo-Bah" is a character in the 1885 Gilbert & Sullivan play "The Mikado". He holds numerous exalted offices, including "First Lord of the Treasury, Lord Chief Justice, Commander-in-Chief, Lord High Admiral...Archbishop...Lord Mayor" and "Lord High Everything Else". The name has come to be used as a mocking title for someone self-important or locally high-ranking and who either exhibits an inflated self-regard or who has limited authority while taking impressive titles.

Also "Full Transcript"




(Ep 61 - "Buster")



Well...pets. Not a really meaningful episode, but it has some entertaining parts - such as Wayne and Jack crossing their legs uncomfortably as Kevin describes "the procedure". One bit of narration was good, and it applies to people as well as pets - "Sometimes it's not enough just to enjoy the good times...the cute times. Sometimes it's when your puppies grow up that the work begins."

Also "Full Transcript"




(Ep 62 - "Road Trip")



This is one of my overall favorites. It takes Kevin and Jack all day to drive to a store "only an hour away". During the trip, Kevin and Jack get lost at a dead-end, battle over the radio station, and wind up stopping in at a diner. Kevin orders a heap of food - "Scrambled eggs...bacon, crisp...wheat toast...home fries...applesauce...and a couple of corn muffins" - so he can ogle the waitress, and ends up embarrassing Jack in front of her. They are off again for the suit - in silence. They finally make it to the store - just as it closes - and a tire goes flat. "Three hours, six wrong turns, and two gas-stations later...somebody finally spoke." JACK - "I'll get the lug-wrench". They spend another hour changing the tire - and arguing. They finally make it home, but decide to avoid Norma for a while. They drive off happy, to get some pie and coffee - and to get their story straight.

Also "Full Transcript"




(Ep 63 - "When Worlds Collide")



Although in this episode Norma fills out an application for River Community College, in Ep 103 "Let Nothing You Dismay", she gets a diploma from Freemont Community College.

Also "Full Transcript"




(Ep 65 - "The Yearbook")



If you can't say something nice, don't say anything at all. I must admit I don't know what I would have put for Peter Armbruster's photo caption. Kevin felt bad, and justifiably so, for potentially hurting Peter's feelings. Luckily, Peter's personality was pretty much "happy-go-lucky."
*
And that's when I realized...these guys were untouchable. Like Teflon.

Teflon is a trade name for a solid, chemically inert polymer of tetrafluoroethylene. It was popularly used on the interior surface of some non-stick cookware, until health concerns arose.

Also "Full Transcript"




(Ep 66 - "The Accident")



This is a sentimental favorite of a lot of people. I liked this episode, except for "We've Got Tonight" music - which is the wrong lyrics if you read it, and the too-long ending. This was an intentional tear-jerker, with no follow-up episode, and no real point - we already know Kevin loves Winnie. Oh well... :-)

Also "Full Transcript"




(Ep 67 - "The House That Jack Built")



The fact that Karen is shacking up with someone, in a rented house, bothers Jack quite a bit. On one hand, Karen's sexual activity was pretty strongly hinted at in Ep 1 "Pilot" where she announced she was going to get birth-control pills, and Ep 4 "Angel" where she (and Marissa) were apparently sleeping with Louis. Although in the late 60's and 70's, "the times they are a-changin'", as far as sexual freedom went, Jack represented the old-school philosophy of "waiting until you're married", and summed it up by saying - well, yelling, really - "I haven't changed!!" I believe this episode is as emotional and as upset as Jack gets throughout the series (equal or exceeding the argument in Ep 4 - "Angel"). Dan's acting was excellent throughout, as was David Schwimmer's as Karen's boyfriend. Excellent ending with appropriate music...Bob Dylan's "The Times They Are A-Changin'".

Also
"Full Transcript"


(Ep 69 - "Looking Back")



The Fleetwoods - In 1958, Barbara Laine Ellis and Gretchen Diane Christopher wanted to form a singing group in their hometown of Olympia, WA, to entertain at school functions during their senior year. They enlisted Gary Robert Troxel from nearby Centralia, to play the trumpet.

The girls harmonizing was fine, but the trumpet was out of place. A suggestion was made to have Gary wordlessly vocalize the trumpet part. Thus, by accident, was born the unique sound of the Fleetwoods - who were then known as Two Girls and a Guy. A talent scout in Olympia sent in a tape of a song co-written by Two Girls and a Guy called, "Come Softly." The group soon found themselves in the recording studio.

The group now needed a less cumbersome name. The name Fleetwoods was proposed - either from the Fleetwood Cadillac or from the Fleetwood telephone exchange in Olympia.

In mid-February 1959, "Come Softly To Me" became the first release on Dolphin Records. The Fleetwoods made their first national appearance on March 14 on The Dick Clark Show, and were on the The Ed Sullivan Show on April 5. "Come Softly To Me" moved up the charts, into the Top Twenty in two weeks and on to Number One by mid-April.
*
"Sky King", a popular live-action series, was set on the Flying Crown Ranch in Arizona, home of wealthy pilot/rancher Schuyler J. 'Sky' King, and his niece and nephew, Penny and Clipper. The trio used Sky's twin-engine Cessna, 'The Songbird,' to survey the large ranch. Up in the sky, the Kings would inadvertently stumble on a trapped neighbor or an escaped fugitive and help the good guys while stopping the bad. "Sky King" was a modernized Western, an update of a genre that was quite popular at the time, with the hero flying an airplane instead of riding the usual horse. Sky also had the help of his two young sidekicks, his niece and nephew, which further added to its formula for success on Saturday mornings.

"Sky King" began as a popular radio show on the ABC network before finding success as a television program, one of the few shows to air on NBC, ABC, and CBS. The only original network season was the first, on NBC's Sunday evening schedule from 1951-52. These episodes were rebroadcast on ABC's Saturday morning lineup the following year, and new episodes were produced when the show went into syndication in 1955. CBS returned the property to Saturday morning for a successful run from 1959-66, consisting entirely of repeats.

Also
"Full Transcript"


Season 5 (Episodes 70-93)
Episode Info
Wonder Years Menu

02/13/05 23:00