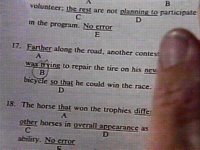 Fictional Scripts





I have two scripts - "The Lost World" and "Salvation".



"The Lost World" is based on Kevin losing his virginity. It is not intended as an X-rated joke - it's not "X", anyway - or any kind of a joke. As most of you know, "The Lake" is my favorite episode. This is a continuation of it. I thought it would be nice to show Kevin having a pleasant experience with a girl for a change. From the very beginning concept, I knew I wanted to take it through Kevin facing his parents, plus Wayne and Wart, afterward.

"Salvation" is a reunion story, and is based closely on the set-up from the series finale. I didn't want to bog down in some details or a lot of characters. You have to fill some in yourself :-) For a little background on writing this story, go here. I ignored one large-but-irrelevant fact from the finale, but it made the story much better. If you can't determine what it is, E-mail me!



Hope you like them!




"The Lost World" "Salvation"




Episode Info
Wonder Years Menu

10/24/03 20:45