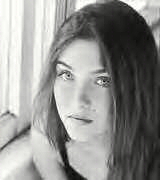 "Hey. Lisa."
My Lisa Gerber Page




From 1995 or 1996

Lisa now advises tech companies in Silicon Valley as they transition their products and processes into the entertainment industry. Having spent most of her life either in front of or behind the camera, she's finding that representing the industry as a strategist is rewarding and surprisingly fulfilling creatively. You can read more about that here.







This was the first site for information from and about Lisa Paige Gerber, best known to me as "Cara" in two episodes of "The Wonder Years", namely Episode 70 "The Lake", and Episode 92 "Back to the Lake".

Lisa was born on May 7, 1978, in New York City, and is an only child. Her father is a journalist, and his job required some moving around. Her family lived in Germany for 2 years, then Vienna, Austria for 7 years, followed by 3 years in Sweden. She finally relocated to Southern California when she was twelve. She told me she can no longer speak the German language she spoke fluently as a kid.

After going to the private Notre Dame high school (and having Sean Baca as a schoolmate), Lisa attended Emerson college, both in Boston and Los Angeles, and worked in a casting office for awhile. She obtained a BFA degree in 2001, and in 2006, she completed her Masters from Pepperdine University.

Lisa was represented at one time by the Savage Agency, which was Danica's agency, too, though they never met.

On November 10, 2007, Lisa married Matt Robinson, a writer-director. The ceremony took place at the lake - yes, "that" one - which, Lisa says was "a total coincidence". Luckily, Lisa has pursued sporadic acting - so we have something to look forward to. Here's to you, Mrs. Robinson.

As of late 2008, Lisa ventured into stand-up comedy, and has performed at the Comedy Store in Los Angeles.

She has also written and pitched some TV comedy.




Lisa's "Filmography"...



"The Wonder Years" - Ep 70 - "The Lake". ABC, Oct 2, 1991. Played "Cara".
(She was nominated for a "Youth In Film" Award for her performance, but ironically, it was won by Robin Lynn Heath ("Lori" at "The Lake") for her role in another series.)

"Brooklyn Bridge" - Ep 10 "Get a Job". CBS, Dec 8, 1991. Played "Daphne".
(Earned another nomination for a "Youth In Film" award.)

"The Wonder Years" - Ep 92 - "Back to the Lake". ABC, May 6, 1992. Played "Cara".

"Beethoven" - 1992 Movie. Played "Donna Dittsworth".
(Kinda disappointing...about 8 seconds total screen time, no lines. She told me "Beethoven" was actually the first thing she did, but was released later...)

"The Others" - Ep 7 "Theta". NBC, March 8, 2000. Played the part of Erin.

"CSI: Miami" - "Ep 22 - Tinder Box". CBS, May 5, 2003. Played the part of Veronica. (Lisa's comments - "they cut my scene out and the whole "Veronica and Speedle love connection" thing which kinda sucks but hey, my hair looked great!...originally there is a whole plot point with me and Speedle (Rory Cochrane). We actually have a real conversation and its apparent that I am his date. Not in last night's show, though! oh well.")

Egyptian Cotton (Video short) 2008.

The Invention of Lying (2009). Played the arguing girlfriend.

The Rebound (2009). Played Susie.

The Restless (Short)(2013). Played Lily.

Elwood (Short) (2014). Played Nina Black.




Lisa's "Playography"...



"Julie Johnson" with Lisa Edelstein ("Ally McBeal", "Leap of Faith", "The West Wing") at the Coronet Theater in 1993 or 1994.
"The Other Five Percent" directed by Arliss Howard ("Full Metal Jacket", "The Lost World: Jurassic Park 2") at The Met Theater in Los Angeles in 1994.
"Johnny & Jewel", by Zero Sum Game Productions, in New York City in 2000. She had the lead as "Jewel".

Lisa is a co-founder of East Coast Theater West, and in March 2004 made her directorial debut and co-starred in an ECTW production of "Love Minus" in Los Angeles. (I went to it - Kyle).




Lisa's "Near Misses"...



Lisa auditioned for the part of "Susan Dey" for the 2000 TV movie "Come On, Get Happy" about the "Partridge family". As we know, another TWY alumna, Kathy Wagner, got the part...
She also auditioned for the youngest of "The Gilmore Girls" TV series.





Some of her comments about The Wonder Years...



She was a fan when she was younger, but has not seen every episode. For shame! :-)

I asked what Lisa and Fred were talking about in the back of the truck as it went down the road - "In the pickup, Fred was talking about being scheduled to be on 'The Tonight Show with Johnny Carson.' Of course, that scene was supposed to be "fun and happy", so that is what they used to get that way."

She never saw the "Planet of the Apes" movie at the drive-in! It was added later. Wow, that's kinda weird :-)

I asked what kind of background or direction they gave to her about "Cara". Generally, she "didn't really know what she was doing" :-) I showed her a copy of what I had written concerning my impressions about the character of "Cara", and she thought the part about "not trusting guys" may have been about 50-50 from Cara's experience, and from her brother's warning.

I asked how the producers presented the idea of the final scene of "The Lake" to her (which eventually had a second-and-a-half cut from it). I tactfully said..."ya know, his hand started here, and it kinda ended up somewhere else". She smiled and looked off, not sure if she wanted to comment on that.:-) She did say Michael Dinner "just matter-of-factly said what was gonna happen."




Lisa's Pictures
Lisa's Bulletin Board
The Story of Meeting Lisa
Wonder Years Menu

05/14/20 10:36