Madeline Adams




(Ep 48 - "Ninth-Grade Man")



(Madeline sits next to Kevin. He looks at her.)

Hhuhn...



Ahhuhnhn...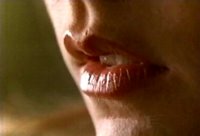 Ahhunhnhuhhn...


Gulp!
(She notices him looking at her, and "accidentally" nudges her pencil off the desk.)

Excuse me. You uh...dropped this.
And I, uh, um...uh...pick-picked it up.
For you.
Thank you -
Ke-K-Kevin.
(They both hold her pencil and electrical buzzing is heard.)
Fact! Lead conducts electricity.
(She again notices him looking at her, and leans slightly closer, looking at her class list.)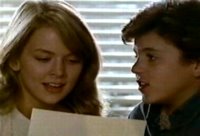 I wonder if you could help me. Is...this class on the other side of the quad?
Uh...yeah! Yeah-yeah, just down...and to the left.
Thank you.
You bet.




*


(French Class.)
Now, here was something hopeful. Shop was foreign to me. French was simply a language I didn't understand.
Bonjour Madame!
Class, this year we're going to try something new. From now on we are only going to speak en français. Ce bien? Alright. Who would like to go first? Guillomme. Comment-allez vous aujourd'Hui? ("How are you, today?")
Frere Jacques? ("Brother Jacques?")
Uh-huh, things were getting back to normal. And I wasn't going to miss my one o'clock "think about Winnie" promise...
Mademoiselle? Dites-moi votre nom! S'il vous plait? ("Young lady, tell me your name, please.")
Je m'appelle Madeleine. ("My name is Madeline.")
C'est excellent, Mademoiselle. (That's excellent, young lady.")
Merci beaucoups. ("Thank you.")
Dites-nous où habitiez-vous l'année dernière? (Tell us where you lived last year.")
Alors, j'ai habité à Lyon, à la midi de la France. J'aime beaucoup voyager avec mon père. ("Well, I lived in Lyons, in the middle of France. I really love to travel with my father.")
And suddenly I understood why French was the language of diplomacy, of poetry, of romance...
(Kevin turns toward Madeline and stands up. There is a swell of music.)
Of amore. Suddenly I understood every single word.

(Madeline turns to Kevin and speaks directly to him.)
J'ai attendu toute ma vie pour toi. (Subtitles appear on screen: I've waited for you all my life.)
Voulez-vous de beurre? (Subtitle: Do you want some butter?)
A l'instant je t'ai vu, je n'ai su qu'il etait personne d'autre. (Subtitle: The moment I saw you I knew there was no one else.)
Voulez-vous de beurre?
Mon coeur est remplit de toi. (She fingers her heart necklace.) (Subtitle: You fill my heart.)
T'a pensé m'obsede. (Subtitle: You haunt my mind.)
Voulez-vous de beurre?
Hey, it was the only thing I knew in French.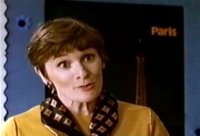 Kevin! (Fr. accent.)
Madeline! (Am. accent.)
Kevin! (Am. accent.)
(Kevin turns around as the class laughs.)
En français, s'il vous plait!
(Kevin looks at Madeline. Madeline smiles toward Kevin as she sits down.)



*


(Kevin is lying on the track, after Becky slugged him.)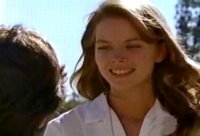 Kevin?
Madeline?
She'd seen the whole thing, the whole humiliating episode! It was pretty clear she'd come over to laugh at me.
I just came over to thank you...
Huh?
For being nice to me. You don't now how hard it is to be the new girl in school.
(Madeline kisses him gently on the lips, then smiles self-conciously, and trots off.)

See also Full Transcript




(Ep 51 - "It's a Mad, Mad, Madeline World")



(French Class.)
Madeline Adams. On the first day of school she kissed me - unexpectedly and without provocation full on the lips! Not that it bothered me exactly. Still, I made it a point to keep my distance. In fact, I hadn't said a word to her since.
(Madeline walks past Kevin and smiles.)
Hi Kevin!
Uh...
(Kevin looks after her, and starts to sit down.)
At least not an intelligible word...
(Kevin misses the chair and falls on the floor.)
Assez-vous, s'il vous plait! Bon jour, la classe!
Bon jour, Madame!
Class, today, we are going to be starting a new unit in French. La cuisine. Cooking!
Uhhh...
Now, for your homework, you and a partner will prepare an authentic French dish at home...and you'll bring it in here and tell us how you made it - En français! Eh, c'est bien?
Say this for the teachers at RFK - they never ran out of bad ideas.
Now, to keep it fair I've put all your names into this...mixing bowl here. So, we will be choosing our partners "simplement au hasard".
Great. Homework wasn't bad enough.
(Marcia takes a name from the bowl.)
Harold Gartner (Gruntner).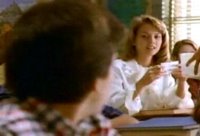 Cooking wasn't bad enough. On top of it all, we were forced to put ourselves entirely in the hands of...
Kevin Arnold!
(Madeline holds the paper and smiles at Kevin.)
Imminent disaster!




*


(Cafeteria.)
Of course, Paul was right. There wasn't a big deal at all. Certainly no reason to be concerned - except for some reason...
Kevin?
I was.
Do you mind if I sit down?
Uh...eh...
I thought maybe we should talk.
Really?
Well, maybe this would clear some things up. Like about what happened that first day. About why she kissed me. About...
About what to cook.
Cook?
I was thinking chocolate mousse...If that's alright with you?
Oh, yeah, yeah, sure. Except - you see...
OK, since she wasn't going to bring it up, I have to.
It's just...
That's a lovely ID!
What?
Was it a gift?
Oh, yeah. Kinda. From my girlfriend. Winnie Cooper. For our anniversary.
It's lovely. She must be very special.
Yeah. Yeah, she is kinda.
So...you were saying?
Oh, that. Well...
But suddenly I felt foolish. Here she was, complimenting my girlfriend...and I was suspicious? Shame on me!
Nothing. It's nothing.
Well then, shall we meet tonight at my place? Say 7:30?
Uh. Sure, that will be fine.
31 Vernon Drive. I'll see you then.
And that was that. We had a good conversation. Straightened things out. Cleared the air. No problem.


*


(At Madeline's house.)
Winnie was right. Love was love, but school was school. Kinda like the separation of church and state. It was time to put social interest aside and concentrate on academics. It was time to study French...
(Madeline opens the door. Her white blouse is tied up on her stomach.)
In our underwear.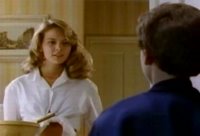 Oh...
Oh, this! I am sorry that I'm such a mess. But I really didn't have a chance to get fixed up.
Oh.
Oh.
And since it is school night and we'll be cooking, I figured why worry about clothes.
Oh, uh, sure.
Sure, that explained it. Why worry about clothes?
Here! You just stir and leave everything else to me. Okay?
And even so, a little voice inside was telling me to watch my step.
Entrez!
I guess little voices don't speak French!


*


(In Madeline's kitchen, she holds up ingredients.)
Le lait.
Le lait.
Le sucre.
Le sucre.
Besides, once we got started, it was pretty clear what was gonna happen.
La mousse, c'est bon?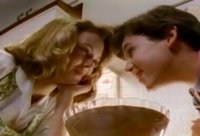 We were gonna cook. Yep, we were really getting to work here, rolling up our sleeves, mopping our brows, removing our bracelets...Who would have thought that homework could be so much fun! And by the time the smoke cleared, we were acting like old friends.
It looks like this all turned out pretty well. Oui?
Yeah, not bad.
The fact is that I was a little ashamed of myself for having thought that... well, you know.
It's kind of funny, isn't it?
What's funny?
Oh, well, you know, how you and me were paired up. It's kind of a...coincidence. You know?
And then it happened.
What makes you think it was a coincidence?
Oh, well, you picked my name and...Uh, I think I'll better go.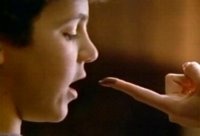 Come on! We haven't even tasted it yet.
No, no, I...
(She licks her finger and smiles.)
Hmm.
I...
Go ahead...Taste it!
I-I gotta go.
(He runs out.)


*


(In class.)
Madeline? I think I lost my ID at your house last night.
Yes, I know.
It's just...I need it. I have a date. With Winnie. At the movies. Tonight. In town. With Winnie.
Did I say - "with Winnie"?
Of course, you can have it back!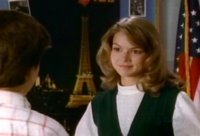 There, a done deal. Over and out.
Only...I'm afraid I didn't bring it with me.
Oh!
So, I guess we have a problem here. Don't we?
What do you mean?
Well, you'll have to come over to my house tonight and pick it up. What time shall I expect you?




*


(Kevin has gone to Madeline's, on a different night, to pick up his bracelet, but she was not there. Now he's at the movies with Winnie. He sees Madeline entering.)
Time to bid life goodbye.
(Madeline makes her way across the row of seats and takes seat just behind Winnie and Kevin. Winnie has not noticed. Kevin starts to breathe heavily.)
Kevin, are you alright?
Me?
You're all sweaty. Are you sick?
Uh, I...well...
Maybe we should leave.
But at that moment I knew leaving would not solve the problem. There was no escape from this. I had reached the dead end.
Listen Winnie, we have to talk. About my bracelet. You see, I, I kinda...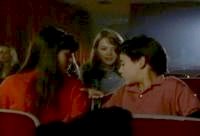 Excuse me.
(Madeline holds up the bracelet.)
I think you dropped this.
Thank you!
It's very nice.
I gave it to him.
Well, it must be nice to have someone you love like that.
(Madeline stands and exits.)

See also
Full Transcript


(Ep 57 - "Heartbreak")
Life at RFK Junior High. It was hours of sheer boredom.
Kevin? Hi!
Uh, Hi!
Broken only by moments of sheer horror.
So, I'll see you in French class?
Uh, sure!
(Madeline walks off.)
Madeline Adams. She was beautiful...smart. Not to mention - totally dangerous.
(Kevin puts on his jacket as he absent-mindedly gazes at Madeline.)
Kev? You going to wear that to class?
Oh, uh...
OK, so I was tempted. But that's all. Nothing more. I was a one-woman man. Faithful forever.



*


(In the bus in the parking lot.)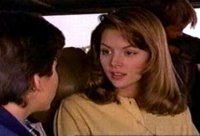 Hi, Kevin!
Oh, Madeline!
Talk about your basic fly-in-the-ointment!
I'm sorry. I was saving this seat.
Doug just snuck onto the Lincoln bus! And Winnie'll be here any -
Oh, my gosh!
So, uh, Madeline. If you don't mind...
Sorry.
Wow! You got 'em hanging all over you!
Maybe so. But the whole thing had been too close for comfort.
(In the museum courtyard after Kevin and Winnie drifted apart.)
Course, I got lost. I'd been lost all day. And the evening didn't promise to get any better. I just didn't understand what was happening. To me. To Winnie.
Kevin?!
Madeline! What are you doing out here?
I was going to ask you the same thing! You look lost.
Nahhh. Kinda...
It was uncanny. This girl had a knack for showing up at exactly the wrong time. Must have been some kind of radar or something.

Do you want to talk about it?
About what?
About anything...about love.
Madeline, I gotta go.
Or, maybe...about those stars. They're changing you know. We think the.. stars are fixed in the sky...but they're not. I think sometimes...we need to learn to give in...to change...to new things. Don't you think?
But the fact is, I didn't know what to think. All I knew was, standing there...with her...under those stars...I suddenly wondered - why was I resisting this girl?
(Kevin and Madeline are one foot apart, looking at each other. They just start to move in to each other as Winnie opens the door, in the distance between them. Kevin and Madeline turn toward Winnie as she spots them.)
And why was I such a heel?!
Hello!
(Winnie sighs, turns, and runs off.)
Winnie!
(Kevin leaves Madeline and trots toward the door.)

See also
Full Transcript


(Ep 58 - "Denial")


(The school hallway.)
What I needed was a little support - a sympathetic ear.
Kevin?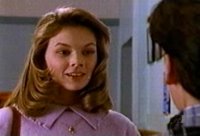 A wolf in sheep's clothing.
Madeline!
I'm sorry about what happened with you and Winnie. I guess...breaking up is hard to do.
Yeah. Well we're not really broken up.
Oh. I just thought -
Yeah. Well it's not like that, OK? We're just working it out.
Well if you want to talk...I'm always available.
Thanks, but I won't need that. The whole thing has been blown out of proportion.


*


(In the classroom.)
Hi, Kevin!
Hey.
Did I hear that Paul Pfeiffer is having a party at his house tomorrow night?
Well, sort of. Kind of. Anyway, I'm not going.
Well that's a surprise!
What do you mean by that?
It's just I know you're one of Paul's best friends...and I just...expected...
Well I decided not to go. It's gonna be stupid and boring...and there are going to be a lot of people there that I don't want to see, anyway.

Winnie?
I must have been as transparent as a piece of cellophane.
Uh, no. Uh, yeah. She was thinking of maybe coming by. (Nods.)
I can imagine that must be hard.
What?
Going to a party alone, that she's going to be at.
Now wait a minute. What was this girl saying here? Why couldn't I go to my best friend's party? And who said I had to go alone?
Madeline?
Yes?
Do you want to go to a party?
(Madeline smiles.)


*


(At the party.)
Cheeseballs? Cheeseballs?
As the party was getting into gear, Paul was on edge.
Do you want a soda?
Sure.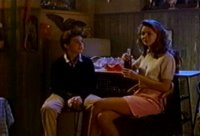 I was a veritable pillar. Whatever lay ahead, I was prepared. Not to mention I was armed with the best-looking date at the party.
Thanks.
Yep, I was feeling pretty confident. I was ready for anything.
Look who's here.
And that's when anything walked through the door. With Mr. Anything.
Come on!
Where?
I want you to meet someone.
No sense in putting this off. It was time to fight fire with fire.

Hi.
Hi, Kevin.
Have you ever met Madeline? (Gestures.)
Of course...I knew it was a cruel blow.
Hi, Madeline. (Smiles.)
Hi. (Smiles.)
But I was merciless.
Madeline, this is Roger.
Hi.
Nice meeting you. Hey.
Hey!
And it was high time for them to turn tail and run.
(To W&R): Hi, guys! I'm glad you could make it - the spinach dip is amazing.
Hi, Paul.
Oh, let me take your things.
Rats! Foiled by spinach dip. It was time to call an audible.
Let's dance.
Good idea.
The gauntlet was down. I had no choice but to become the life of that party. I danced with abandon. I answered the question on everybody's lips - "Is there life after Winnie Cooper?" You better believe it! Kevin Arnold was a fun-loving guy with a beautiful date.
(Kevin walks backwards into a girl, causing her to drop her cup. Everybody looks at Kevin.)
No doubt about it. I was the center of attention.
Sorry.
Maybe it's time for you to take a breather, Kev.
Hey! Is this a party or what?
I don't get it.
Sheesh. What was this guy's problem? I wasn't hurting anybody.
Do you want to dance?
That depends.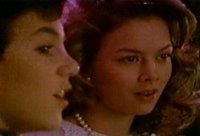 What do you mean?
Are you going to be dancing with me...or her?
What are you talking about?
Maybe it's time you made up your mind. About Winnie.
Huh?
She's making a fool of you.
(Kevin keeps watching Winnie.)
Kevin! Find me when you make up your mind.


*


(Kevin has made nasty remarks to Winnie, who has left the party.)
So how'd it go?
Fine, fine. Piece of cake.
I'm glad. I never saw what the big deal about Winnie Cooper was anyway.
And that left just one thing to say.
Madeline! Get lost!

See also
Full Transcript


The Little Women
"Clips" Menu
Wonder Years Menu

12/05/14 19:17