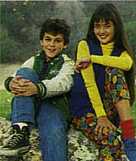 The Wonder Years
So What?






The series views the process of growing up through the eyes of Kevin Arnold, spanning the period from the last day before starting 7th grade in 1968, though the 4th of July weekend of his Junior year of high school. It has a narrator, representing the adult Kevin 20 years later, who introduces the situations or provides some insight into what the younger Kevin is thinking.
Sometimes the narrator's viewpoint changes from one of recalling the past, as in the opening and closing narratives, to being in the present situation during the body of an episode, almost like an extra person (Ep 18 - "Fate") or (Ep 17 - "Nemesis", where the narrator is actually out of breath, as Kevin runs to Winnie's house.)






The main characters include:
Kevinís father, Jack, who has an ulcer-inducing, paper-pushing job at NORCOM, a company which makes "little electronic thingies" for toasters or weapons, depending on who you ask. (Played by Dan Lauria.)
Kevinís mother, Norma, a "homemaker" who eventually goes back to college, and is subsequently hired by the "Micro-electronics" software company as its comptroller. (Played by Alley Mills.)
Kevinís abusive older brother Wayne, who, according to the adult Kevin, "deeply regretted the fact that I had been born, and wanted me to feel the same way". (Played by Jason Hervey.)
Kevinís still-older, rebellious-hippie sister Karen, who takes "Afro-American studies...Hindu philosophy...Navajo arts...sexual politics...and English 101" classes at college, eventually marries and moves to Alaska, where her husband Michael has a good job opportunity. (Played by Olivia D'Abo.)
Kevinís over-achieving best friend, Paul Pfeiffer, who according to Wayne "was even allergic to his own snot", and eventually grows out of his glasses, braces, and nerdiness. (Played by Josh Saviano.)
Kevinís on-again/off-again girlfriend, Winnie Cooper, who grows up across the street. Or as Kevin once put it, "Winnie Cooper was not my girlfriend. When we were very little we used to go down to Harperís Woods to catch fireflies, but we hadnít hung out at all since we were about nine." But later (the final episode, actually), the adult Kevin tells it a little differently, "Once upon a time there was a girl I knew, who lived across the street. Brown hair, brown eyes. When she smiled, I smiled. When she cried, I cried. Every single thing that ever happened to me that mattered, in some way, had to do with her." (Played by Danica McKellar.)


Click for a not-so-good Cast Photo






The TV series premiered immediately following the 1988 Superbowl, and ran for 115 episodes. It won major awards for casting, writing, directing, music, and acting - including an Emmy after just 6 episodes. Fortunately, it has been in syndication, although edited (did he say - "hacked"?) at Nick-at-Nite for extra commercial time, and occasionally for references to sex, birth control, drugs, and language.

Much use of "news clips" and references to social and cultural developments in America during the '60's - particularly the Vietnam war and the U.S. space program - was routinely used in many episodes. This helped provide a frame-of-reference for many of the episodes, and the series in general.

Occasionally, the story develops cracks in the long-term logic of the series. A good example is Ep 66 "The Accident". This is a popular episode, centered around Winnie being injured in a car accident, and has a very emotional "I love you" scene at the end. Yet, 4 episodes later in Ep 70 "The Lake", Kevin has some fun with another girl while on vacation (and he wasn't thinking about Winnie, at all.) Of course, this is TV, and dramedy to boot, and to achieve an effect, or manipulate the story, sometimes a character's response will be the opposite of what you might expect.

A major topic of discussion is whether Kevin and Winnie made love in the finale "barn scene". It seems the writers/producers wanted to leave it open to interpretation, although the theory that the story was intentionally "messed up" in a production dispute is possible. Personally I felt a little disappointed that the narration was pretty "heavy" yet the action was pretty "light". Apparently the producers waffled on this point, perhaps under network pressure, and I think just a bit too tamely. Also I think the narration was flawed, where he says..."Every single thing that ever happened to me that mattered, in some way, had to do with her."

The finale closing narration, which tells what happens to the major characters, left much to be desired, I believe, particularly about Winnie - it just wasn't logical. (Winnie goes to Paris for eight years. Kevin and Winnie write weekly. Kevin and his wife meet Winnie when she comes back). And for those fans who want a "Kevin/Winnie forever" reunion, the finale seems to preclude that possibility. (At least not easily, since Kevin is married to someone else.)

I can overlook most of the "cracks" in the storyline, simply because this is TV fiction. Some allowance must be made for the "ratings factor", which, let's face it, is important to the guys with the money. After all, the series is a generalized approximation of growing up, from one child's viewpoint. Not every single child would have every identical experience as Kevin, so some stretch may have been needed to get him into a particular story, so that the story could be told.

Interestingly, The Wonders Years - as a concept - has been incorporated into the American culture and media. Fred Roggin, a TV sports reporter in Los Angeles, had a segment called "The Blunder Years" - sports bloopers. He is not the only one to use that phrase. A recent documentary about 3 or 4 specific issues of the year 1968 used the same music ("For What It's Worth" - Buffalo Springfield, etc.) and same news clips of falling bombs (among others), as were used in the series. Also the voice-over narration for the documentary was obviously and intentionally modeled after the series. While watching it, I was waiting for Kevin to walk around a corner at any moment.

There is no doubt that TWY was a television phenomenon which will not be duplicated. Its presence occurred at the appropriate timeframe in history; it was expensive to make; it was a wonderful fluke of all components coming together, where the total is truly more than the sum of its parts. While some TV shows may have one or two aspects common to TWY, it is the interworking of all creative elements that sets it apart, and makes it much more than just a good TV show.




The Wonder Years is the favorite show of many people for various reasons.
Here are some of mine.



It is based on generally "real" situations faced by nearly everyone to some degree during their teenage years.

It is genuinely funny and tearfully sad, frequently in the same episode. The writers and directors have used actual humor and pathos (as opposed to the "sitcom" variety) to relate or illustrate universal stories of first loves, parental arguments, sibling rivalry, and premature death.

The series features great music. The theme song is "With A Little Help From My Friends" by Joe Cocker (2 versions). Other artists include Bob Dylan, Joni Mitchell, Karla Bonoff, Beach Boys, Simon and Garfunkel, Smokey Robinson and the Miracles, Nat "King" Cole, Jimi Hendrix. The list goes on and on. Some of it has been assembled into CD sets.

The actors are top-notch from top to bottom. Fred Savage ("Kevin") and Robert Picardo ("Mr.Cutlip") each won, or was nominated for, acting awards, and the show earned awards for the casting service.

The production details were not overlooked. All the little props and "ambiance" are there. The period clothing, food and drink brand names, TV commercials, all contribute to a feeling of authenticity. Toward the end of the series, when Kevin had a car and was out and around, it was costing ABC over $1,000,000 per episode due to additional locations, insurance, etc.

The show frequently used many issues of that period in US history as the focus, or partial focus, of some episodes: civil rights movements, womenís movements, anti-war demonstrations, and astronauts on the moon. It was not timid in some of the situations. News clips are used frequently throughout the series.

Although the show has a huge younger viewing audience, thanks to syndicated reruns, it is not a "kid's show" per se. Some words seem harmless today, such as "butthead". But when was the last time you heard "scrote" on TV? Other words not often heard on TV include "horny" and "fart" (Ep 2 and Ep 7, respectively). They were not included for shock value, but because they are real words spoken by real people in real situations.(And just FYI, in Ep 7 "Heart of Darkness", Kevin and Paul smoke cigarettes, drink beer, joke about Winnie being "flat", and finally, tease Winnie about her glasses.)

The writing is very clever and intelligent, and won several awards. I have tried to include many examples, in quotes and longer dialogs. Many times it involves a familiar phrase, perhaps even a well-known quote, presented with a twist. Frequently, the same dialog is spoken by characters, at different times over the episode, with ironic differences in meaning. Ep 48 "Ninth-Grade Man" is a good example of this. Near the beginning, Winnie tells Kevin she is worried about being the new girl in school. Near the end, Madeline say to Kevin "You don't know how hard it is being the new girl in school." In the next scene Winnie repeats the line to Kevin. In Ep 10, Kevin says "Becky Slater?! I'll give you - Becky Slater!". Later, in Ep 11 after Kevin tells Becky he wants to break up, Becky says "Friends?! I'll give you - friends!". Sometimes, it is just something out of the blue. (My favorite example: In Ep 70 and 92, involving "Cara", Kevin would always say "Hi", and Cara always responded "Hey" - except in their final meeting, when the words are reversed. Also in Ep 70 (while we are here), Cara introduces herself "Hey, Cara", which is immediately echoed by her (off-screen) brother "Hey, Cara?...You want to hang out..." Also, most frequently of all, are the interjected words or phrases, by the narrator, or others, usually during one of Kevin's (humorous, to us) crises, and the opening dialog of one scene playing over the visual end of the previous scene (voice-over or "V/O" in transcripts).

And, last, but certainly not least, there was no laughtrack, mercifully. Technically speaking, the series belongs in the genre of "dramedy" (the other good example being MASH), which mixes humor and drama, and a laughtrack would just mess up everything. (MASH had a laughtrack, but it never played in the operating room, and was generally minimized over the course of that series - in fact, it can be turned off on the DVD's.)


Wonder Years Menu

3/6/20 23:05