Craig Hobson




(Ep 27 - "Mom Wars")



(At the no-equipment football game.)
Hey, Pfeiffer? How many sweatshirts you wearin'?
Hey, I need 'em, OK? That wind really cuts through you like a knife.
Sure it was reckless. But nobody got hurt.
(Randy looks at Doug lying on the ground.)
Doug?
Much.
Is he breathing?
I think so.
Are you breathing, Doug?
I think he's hurt! (Gestures.) Maybe we should stop!
Nah...He just got the wind knocked out of him - he's alright.
Yeah, I'm awright...
Oh...good.
Hey, Arnold - we want revenge! - next play's gonna be a blitz.


*


(Another day, another game.)
Hey, Kev - isn't that your mom's car?
(Norma drives by slowly.)
Yeah...
Funny. She'd never driven by here before.
OK. Your ball. First-and-ten.


*


(Outside school, Norma is waiting for Kevin.)
Look, I'll be right back, OK?
You're coming with us...? (Gestures.)
Yeah, yeah, I'll just be back in a minute.


*


(In shop class, Kevin is wearing irregularly-striped new pants.)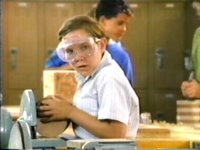 Hey, Arnold! Nice pants.
Oh, thanks "Hodges"...nice of you to notice.
You missed a good game yesterday.
Yeah! Paul set a new record - most dropped passes in a scrimmage. Where were you, anyway?
Oh, uh...I had to help my...dad...change the plugs on the, uh, Impala. You know, you got to keep her runnin'.
I didn't think "bargain-hunting with mom" would go over very well.
Yeah? Uh, you check all the gaps?
Uh...yeah!
Well how'd you get your fingernails so clean? You know, usually it takes me a couple days -
So, you guys win!
Oh, no - we lost. We coulda used you, too! Jimmy's mom wouldn't let him play.
Can you believe that?!
What a wuss.
You'll be there tonight, though - won't ya?
Oh, sure!
Alright! Well...
(Hobson picks up a big splinter of wood.)
This'll do.
(Hobson puts the splinter in his mouth as a toothpick, and exits.)


*


(Kevin tosses the football to Hobson as Paul approaches.)
Pfieffer - you're late!
Am I? Well, you guys didn't start without me, did you?
Of course! Wouldn't be a big-league game without you.
Guys. Humiliating each other, hurting each other's feelings - did it get any better than this?
(Sound of car-horn, then Norma pulls up and parks the car.)
Uh-oh - caught red-handed!
(Hobson smiles and shakes his head.)
There was only one thing to do. Go on the offensive.
(Kevin runs toward Norma.)
Kev-in...!


*


Yeah, things were gonna be alright.
(Kevin runs forward with the ball.)
And then it hit me. Actually, Craig Hobson hit me. Then Randy Mitchell. And Mike Donovan. After that, I kinda stopped taking names.
Man! That was amazing!
Come on, guys - get off! Kevin? You're bleeding!
OK, your ball. First down.
OK - alright! This game is over!
Says who?
Says me! This game is called on account of darkness. And that's all, there's nothing else to say. Now everyone just go home! Go on!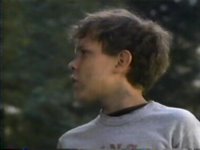 He's probably right - it's gettin' late.
Yeah, I got dinner.
We'll do it again tomorrow.
(Hobson frowns at Paul.)
What are you - his mother?!

See also "Full Transcript"




(Ep 28 - "On The Spot")



(In the cafeteria, Mr. Weber is standing on a chair.)
Students, if I may - a moment of your time!
(Kids continue to talk.)
Stu-dents!
(Kevin turns to Winnie.)
Who's that?
That's Mr. Weber - the new dramatics teacher.
(Hobson looks over his shoulder at Kevin.)
Geek. (Nods.)
Definite geek. (Nods.)
He's not a geek! He's just...dramatic.


*


(Kevin has apparently talked Winnie out of trying out for the play.)
OK - so I'd rained on her parade. I had to set her straight. No one in their right mind volunteers to be in a play.
(Paul approaches.)
I'm gonna try out for that play. How about you? (Smiles.)
(Hobson walks behind Kevin and sets a flyer next to him.)
Says here ya get of of seventh-period for rehearsals.
Seventh-period? Gym?
Count me in...

See also
"Full Transcript"


(Ep 30 - "The Family Car")



(In the cafeteria, Paul approaches slowly, with a tray in one hand, and his other hand in his pocket.)
Hey, Pfeiffer! Your fly's open.
(Paul looks down, spilling his tray on the floor. Some kids laugh and applaud.)
Embarrassment. The stock in trade of any self-respecting eight-grader.
Very funny, Hobson!
Still, when it came to the art of raw insult...I could hold my own.
So, uh, Hobson...I heard you struck out with Penny Brubaker last night at the movies.
(Craig glances down.)
Who told you that?
(Kevin looks at Winnie and smiles slightly. Winnie looks away guiltily.)
Oh, wouldn't you like to know?
(Craig looks toward Winnie, who squirms slightly.)
You guys are terrible.
(Winnie stands and exits.)
Heh-heh-heh-heh.
Say, Arnold? Wasn't that your car I saw stalling out in front of school this morning?
Wait a minute...What was this?
(Kevin looks off and back slowly, then frowns.)
Why?
Nothing. It's just it sounded like a Sherman tank.
Hey, his dad keeps it running!
His dad keeps it runnin'...(nods)...right into the ground. Say...when's you old man gonna pop for somethin' made in this century?
(KIDS): Ooooh..
OK. This was getting personal. Ridiculous - but personal. It was time for a witty comeback. Something subtle.
(Kevin raises a spoon of mashed potatoes.)
Hobson?
(Kevin catapults the potatoes which lands on Craig's shoulder.)
Got somethin' on your shirt.



*


(Another day at the lockers.)
So what did you get?
Great. Now I was in for it. So much for shooting off my mouth about car-shopping with Dad.
You didn't get one, did ya?
Well, I didn't say that! (Frowns.) We're just...(glances off)...still looking. (Smiles.)
For your information, Hobson, they're talking Mustang.
So what's the holdup.
Well, they...tried to stick it to us in the trade-in.
That's it - stun 'em with some fancy shop-talk.
Pfff...I knew you weren't gonna get a new car. (Frowns.)
Hobson...(frowns)...you have absolutely no idea what you're talking about. I mean, you gotta keep your head on straight when you're dealing with these guys.
There. What was he gonna say to that?
Face it, Arnold...your dad's cheap, that's all.
What'd you say? (Frowns.)
You heard me. I'll see ya, cupcakes.

See also
"Full Transcript"


(Ep 37 - "St. Valentine's Day Massacre")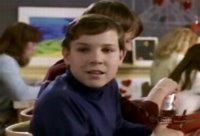 Things were grim. Paul and I had been set adrift in a leaky boat on the sea of love - or something like that.
In honor of this very special day, we're all going to make some little valentines. Now, you'll need construction paper, glitter, and doilies.
Actually what we needed were enlistment papers in the Foreign Legion.
Man, you guys are pathetic! Look at you! Tearing your guts out over a couple of chicks.
What do you know about it, Hobson?
I know a few things about women. You should do what I do - forget 'em. Heh-heh.


*


(Hallway.)
Oh, Paul! This is the sweetest thing. (Hug.)
Like I said - pathetic! Look at 'em! It's embarrassing!
Yep. But effective.
(Kev takes a valentines off the bulletin board.)
Gimme a pen!
Oh, no, not you too?! Am I the last man left?
Look, just gimme a pen!
Should have known. You're just as much a doofus as he is.


*


(Outside school.)
Man, what are you so miserable about?
Hobson, she walked out of my life!
Like I said - what are you so miserable about? Hey, think of it this way - now you can hang out with me!
I don't think so. I...kinda want to be by myself.
Man, your hopeless. (Exits.)
And there you had it. Nothing left to do but wander home and help mom baste the old Valentine goose. After all, my story was told - it was all over.
(Shot of a bicycle pulling out, and sound of a bicycle bell.)
Well, almost over.
(Becky rides on a collision course toward Kevin.)
This is what she meant by "taking it gracefully"?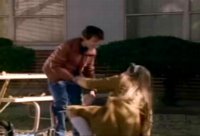 (Kevin dives out of the way. Becky swerves and crashes into Hobson.)
I guess it was sort of a low moment - for me at least. For Craig and Becky, however, it was a match made in heaven.
You OK?
I could use some help getting up.
In a way, it was a perfect ending to a perfect Valentine's Day.

See also
"Full Transcript"


(Ep 38 - "The Treehouse")


I was thirteen years old. My father was still treating me like...a kid. I mean, what was it gonna take, here?
Check this out.
(Hobson shows them a "mens" magazine.)
Put that away!
(Paul closes Hobson's notebook hurriedly.)
Sorry, Pfeiff - didn't mean to scare you.
Grow up, Hobson!
What's wrong with it? My dad looks at this stuff.
Yeah, your dad, maybe.
Uh-huh - like yours doesn't...
Of course not - my dad's an optometrist.
Phhh...
Well, he doesn't.
I don't want this to come as a shock to you, Pfeiff - but men look at women.
No, duh.
You're just a babe in the woods.
Craig Hobson - the "Masters and Johnson" of the lunch line.
So, Arnold, how's the big project comin'?
What do you mean?
Saw your and your dad drivin' by with a car full of lumber. Whatcha buildin' - a new sand-box?
For your information, Hobson, they're working on something very big.
Really, like what?
Paul...
I can handle this...it's a treehouse.
Thanks, Paul. Really.
Well, it's not really-
A treehouse, huh? Aren't you a little old for that?
At least his dad doesn't sit around looking at magazines. They're building it together.
A treehouse, huh? What are you - the ladder-holder?
Huh, yeah, right.


*


You lucky dog.
I don't believe it!
You guys don't understand.
I think...we do.
Will you cut it out, Hobson?! I could use a little help here.
You don't need help - you need binoculars.
Why?
Pfeiffer, you're hopeless.
Look. All I know is this can't go on. My dad and I are at each others throats!
In that case, there's only one thing to do.
At last - a little counsel!
Let me build that treehouse.

See also
"Full Transcript"


(Ep 40 - "Night Out")



(Robbie Hudson is inviting "new couples" - Becky and Hobson, and Winnie and Kevin - to his famous make-out party.)
So. Ya in?
(Becky smiles.)
Of course they are! All the other couples are going...
Groovy!
Groovy!
I can't believe he invited us, can you? Isn't this amazing?
Of course...
It was quite an honor. There was just...one little detail...
(Winnie looks worried.)
Isn't that the party where they...
You mean, where they make out?
Bingo!
Craig!
Well, what's the big deal? You guys make out, don't you?
And that was the one detail.
Of course we do.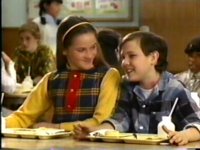 There, of course we did - I knew that! Only we hadn't yet...in real life.
Well, then...you're going to love Robbie Hudson's.
See, he's got this room downstairs, and, uh...
We got the picture, Hobson!
Great, then it's settled.
What could we say, except...
(K & W): Ho-kay...

See also
"Full Transcript"


(Ep 43 - "Goodbye")



After all, we'd been through a lot, the old man and I. We had a history. And the fact is, thanks to him, I'd brought myself from a "D"...to a "C", a respectable "C". Nothing wrong with that.
Darn it!
Unless, of course, you happen to be Paul Pfeiffer.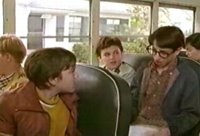 What's wrong with him?
I'll tell you what's wrong - this!
An "A"?! You got an "A" in Collins' advanced class?
It's not an "A". It's an "A-". I blew it.
Now with anyone else this might seem like bragging - but Paul wasn't a braggart. "A"'s just came to him - like hives.
Bet you could just kick yourself.
Lay off, Hobson.


*


As for me, well, I'd survive to. I had my health, my friends, and of course - my own private hell.
(Hobson pulls Paul's quiz out of his book.)
My, my - another ace.

Hey, it's none of your business. Give it back!
I heard the new, uh, advanced math teacher is a chick. Planning on becoming the new teacher's pet?
Very funny, Hobson. She happens to be very smart. She needs a little work on her delivery, but...
Oh, I bet.
What do you know?
Will you guys just knock it off. You're such clowns.
Oooooh, ooooh.
(Kevin splatters Jell-o on Hobson. Hobson stands up.)
Hey!
Gentlemen?! What's going on here?
Nothing. It's nothing.
See me in my classroom...Three o'clock. Sharp.
Forty lashes, Arnold. Nice goin'.

See also
"Full Transcript"


(Ep 44 - "Cocoa and Sympathy")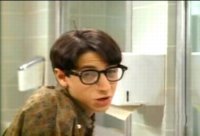 (Paul and Kevin are at the boy's room mirror.)
Kev, it isn't funny! I can't walk into the cafeteria looking like this.
Course when it came to playing straight-man, I had some experience of my own.
Paul, it's just a cow-lick. It's not so bad.
What do you mean, "not so bad"? "Not so good", right? That's what you really mean.
For instance, when Paul's self-esteem was down - read any day of the week - it was routine for me to build him back up.

It looks like I've got pipe-cleaners growing out of my head!
It looks fine!
(Hobson enters.)
Hey, Alfalfa! Nice "'do".
Get bent, Hobson!
Careful what you say, Pfeif, or I might not let you see the Berlini poll.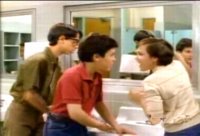 What?
The "Lisa Berlini poll" - the definitive rating of the male faction at RFK Junior High. It was the kind of document that eventually led to deep-seated neuroses and psychotherapy - not that we knew about that stuff in eigth-grade.
(Hobson sticks the paper on the mirror with his gum.)
Read 'em and weep, cupcakes.


*


(Kevin, Randy, Hobson and Doug are in the bleachers watching the girls on the athletic field.)
Article Five, Section Six of the Eigth-grade Boys' Code of Conduct...when faced with a popularity poll you don't like...make up your own. Of course, we took it seriously.
(Hobson makes notes in a notebook.)
There was an art to this. Points awarded for intelligence...political awareness...and of course...
Best body...?
(All): Deedee Rodriguez. (Nods.)
No way! Holly Stern! She shaves her legs!
Doug, you're droolin'.
Of course he was drooling - that's what adolescents do.

(Paul approaches and steps up the bleachers.)
Hi.
Well, most adolescents.
What are you guys doing?
Oh...decide to spend some time with people your own age, huh?
We're doing a poll. To get back at Lisa Berlini.
How about "best smile". (Smiles.)
You know who has a nice smile? Your mom. (Nods.)
Was he nuts? When the guys found out what he thought about my mother...they'd -
Ya know...Arnold's mom's not bad.
(Randy nods slightly.)
Agree...
She shaves her legs, too. (Smiles.)
You're talking about my...(gestures)...mother! (Frowns.)
As if she were some kind of, uh...woman!
I think we should put down Kevin's mom for "best smile". (Nods.)
Paul - that's ridiculous! (Frowns.) I mean...this is a school poll.
Wait a minute. Pfeiffer's actually got a decent idea.
Uh-oh.
(Hobson gestures with his pencil.)
Lisa Berlini should know she's in competition with real women.

See also
"Full Transcript"


(Ep 46 - "Moving)



(Cafeteria. Winnie is walking toward Kevin's table.)
Winnie Cooper - the light of my life, the cornerstone of my existence. She was...
Cheap, fake, and dependable.
What?!
This. (A ring.) I'm giving it to Becky.
Why?
It's a tradition. Everybody's gettin' one.
How much did you pay for that?
Nine bucks.
Whoa! That's a lot of money.
Maybe. But you know what you get for nine bucks?
A ring worth two bucks?
Insurance. Summer's comin'. This'll keep 'em faithful. Hey, its a small price to pay, 'specially when you're dating Super Cooper.
That's ridiculous.
Of course it was. Winnie and I didn't need a ring. We had something...special.


*


(Locker room. Ke3vin has learned Winnie is moving in...)
Three weeks? This is horrible! You must feel like killing yourself.
Fortunately, my friends were there to help soften the blow.
Hey, Arnold! Heard the Coopster's takin' a powder.
Come on, Hobson. Show a little sensitivity here, huh?
Yeah, just lay off, will ya?
Yeah. Kevin and Winnie are gonna be just fine.
Thanks.
Besides, just because she's going to a different school doesn't mean she's not -
She's going to Lincoln?
Yeah. Why?
Nothin'. Except, ever see the guys that go there? They average six feet tall. They all play football...some of them professionally. And they surf.
They surf?
And that's just the seventh-graders.
Get outta here.
You've got one option, Arnold. Protect your territory. Think about it.
But I didn't have to think about it. Did I look like the kind of kid who'd let himself be stampeded by a dumb, mean-spirited little twit like that? Hah!

See also
"Full Transcript"


We're Men!
"Clips" Menu
Wonder Years Menu

11/15/14 15:45