Jimmy Donnelly & Co.




(Ep 87 - "Lunch Stories")



(Kevin is sitting at a lunch table with Ricky, Paul and Chuck.)
Heck! Even I needed a break from these bozos once in awhile. Which in this case meant - a trip to the soda machine.
(Kevin approaches some guys at the soda machine.)
In our cafeteria, it was...
So, Arnold. How's it hangin'?

On the other side of the tracks.
Hey.
Jimmy Donnelly, Joey Spinoza and Neal Pemish. Their school motto was - "We came, we left."
(Donnelly kicks the soda machine - a can falls.)
Thanks.
So, Arnold...we're, uh...ditchin' fifth and sixth period.
Good for you.
Yeah, we're gonna see "The Devil in Miss Jones".
Yeah, right!
Uh...wh-what's that supposed to mean? (Frowns.)
It means it's X-rated!
Ooooooooh...(Frowns.)
Whoa...
That's no problem. My cousin works the door - figured we'd take in a matinee.
Yeah, we thought ya might want to come along.
Me?!
Yeah, we like you! We think you're great! Everybody says you're a really cool guy.
Well...
Plus, you got a car.
Look, uh...Pemish's carburetor blew up again, and, uh...we really thought you'd be the kind of guy who'd want to help us out.
Well, I'm not.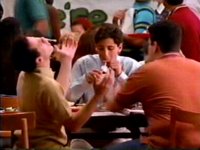 Sure. We, uh, understand - you, uh...you gotta get back to your geeky friends over there.
For your information, my friends are not geeks.
Oh, yeah?
(Shot of Kevin's friends goofing off.)
Hmmmm...
Proof's in the pudding, man.
Well, anyway...I'm not interested, OK?
Just think about it, Arnold. That's all we ask - just think about it.
Sure. I'll do that.
Let's face it - I wasn't the "ditching" type.


*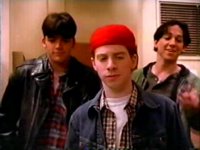 (Earlier, Kevin agreed to give blood for Winnie's blood-drive. Now, he's in the rest room as Donnelly & Co enter.)
Hey, nice stain, Pfeiffer, heh-heh!
It's sloppy Joe!
Yeah, right. So, Arnold? Made up your mind, yet?

About what?
The movie. You know, "The Devil in Miss Jones".
Oh, listen guys. I don't think I'm gonna go.
Know what your problem is Arnold? You think too much, you know that? So you miss a few classes - so what?
And faced with a logic like that, there was only one thing to say.
Kevin, you can't cut school! You can get into a lot of trouble that way. Or you could get suspended. What if someone finds out? What about your parents? Just think how your mother will feel if she found out you went to a dirty movie.
And standing there, listening to a guy with chopped meat on his pants preach the ten commandments of geekdom, the decision seemed pretty clear.
Good luck on the debate, Paul. Let's go, guys.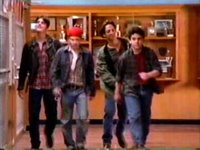 ("Peter Gunne" theme plays as they walk up the hallway.)
After all, I wasn't just doing this for me. I was doing it for the reputation of my entire lunch table. OK...I was doing it for me. Still, as we marched down that hall, I felt a thrill of exhilaration. I was taking a walk on the wild side with guys who knew the terrain. It was intoxicating, dangerous...
(Dr. Valenti approaches.)

Boys! Where are you goin'?
Stupid!
What are you doing?
Who us?
Yeah, you.
Well, w-
Guess it was clear someone was gonna take the rap.
We were following him.
Yeah. Where were you taking us, Kevin?
Uh...
And at that moment, I saw my entire academic career flash before my eyes. I saw my mother...wringing her hands. I saw my father...wringing my neck.
We...were just going -
(Winnie comes out of a doorway.)
Kevin?!
Winnie!
Kevin! You gonna donate blood now?
Blood?
Blood?
Blood!
That afternoon, we didn't get to see "The Devil in Miss Jones". But we did get free juice and cookies.

Also Full Transcript




(Ep 97 - "Sex and Economics")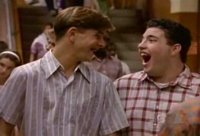 Paint a house? A whole house?
That sounds like work!
I thought you guys needed the money.
How much you paying?
Let's see, here...five-hundred divided by three, comes to...
Twenty bucks a man?
Hahahahahaha.
Hahahahahah.
OK, if that's the way they wanted it - fine. After all, I didn't need them. What I needed were men. Men who took joy in their work. Solid, blue-collar men. Men like...Jimmy Donnelly, Eddie Horvath, and Joey Spinoza.
I dunno, call it instinct, but somehow, I knew I'd found my crew.
(Kevin approaches the group.)
So guys. Want to make a few dollars?
Bingo.
Dollars?
(Cut to the paint store.)
And so with that, my team was complete. Sure, maybe they weren't much on experience, but they did have their good points. They worked hard, they worked fast. But most of all, they worked cheap.
So, Arnold. When you said a few dollars, exactly how few were you talkin' about?
I'm not sure. Ya know, I gotta to buy supplies...and there's overhead...
In ballpark figures.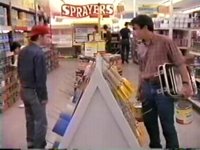 Twenty...four...ninety-five.
Thirty.
Thirty!?
So this guy wanted to play hardball, huh?
Sorry. Twenty-six is my limit.
Twenty-eight. That's as low as I go.
Twenty-seven.
I'll go talk to my boys.
Heh-heh. Game, set, and match - Arnold.


*


(Outside Miss Farmer's house.)
The next morning, we arrived - on time, ready to tackle the task before us.
Wait a minute.
With just one little problem.
You never said anything about it being two stories.
That's not two stories.
That's a window! (Points). Right there! Man, this is gonna cost more. I'd say...at least - fifty.
Fifty!? Yeah, but we agreed on -
Fifty. Up front, and in cash.
It was a holdup worthy of Jesse James. And I wasn't buying.
Oh, no. No way, forget it!
But Arnold -
Donnelly, we had a deal. And a deal's a deal. Period.
Hey, I was no patsy. After all, I had an investment here.
(Miss Farmer steps onto the porch.)
Kevin!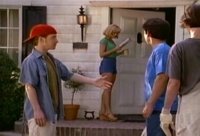 Unfortunately, at that moment, the stock market crashed.
I'm so glad you're here! Are you just about ready to get started?
Uh, sure! Just about.
Good!
OK, Arnold. So we have a deal?
Fine...
What else could I do? I was stymied. Greed and temptation had conspired against me.
Let's just get to work now, OK?
You got it.
And then there was really nothing left to say, but -
Boys? Breaktime!
Right.


*


So that weekend we got to work. We banded together as a team. It was time to put economic differences behind us. It was time...to paint. Sure, maybe we had no idea what we were doing. So what? What we lacked in experience, we made for up with...lack of experience. And after two days of work, one thing was crystal-clear - this was a disaster.
Can't you guys go any faster?
We're going as fast as we can.
Hey, Donnelly, why don't you take that top window up there?
I'm afraid of heights.
I paid you for a second floor.
I know. (Nods.) I appreciate it!
(Spinoza spills a can of paint.)
Hey, Arnold, uh, we're gonna need some more paint.


*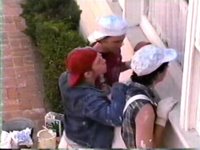 I was flat broke. My only hope was to finish the job before it finished me.
Hey, Donnelly, over here. Look.
(The guys look through a window to watch Miss Farmer dust her house.)
Whoa!
Hey guys! You think we can get a little painting done here?
Lighten up, Arnold. We're on a break!
Alright, that's it!
I'd had enough. I was fed up with these jokers. I'd been pushed to my limits.
Hey, you guys took a break twenty minutes ago. It's time to get some work done now.
Yeah, yeah, yeah...
And maybe that's when it hit me - the horrible truth. I was letting this poor school teacher's house be painted by...a bunch of perverts.
You know, I can't believe you! I am really, really surprised. Donnelly, Spinoza, Horvath - I hired you, and from the first day all you've been doing is gold-bricking...and daydreaming. And from now on, there's gonna be no more breaks, and no daydreaming. Do I make myself clear?! Now, you're gonna take pride in your work. And you're gonna paint! And you're not gonna stop painting until this job is finished!
There! It was a summons to arms. An appeal to old-fashioned red-blooded ethics that called for only one reply.
We quit!
Seeya.

Also Full Transcript


Bottom-Feeders
"Clips" Menu
Wonder Years Menu
11/26/14 18:05