Carla Healy


(Ep 6 - "Dance With Me")



(Kevin and Paul are stag at the dance. They walk away from the refreshment table, with cups of punch.)
The goal at a junior high school dance is to look as busy as possible...without actually setting foot on the dance floor.
(Two girls walk past. Kevin and Paul look at them, then at their cups. Kevin crumples his cup, and throws it into the trashcan next to the table. Paul throws his cup, which hits Carla on the shoulder. She turns around.)
Good job, Paul, look who you just hit.
(Paul squints off, then looks surprised. He starts sneezing.)
Why don't you go over and ask her to dance?
Is she looking over here?
No, she's not looking over here.
Good. (Frowns.)
She's coming over here.
Hi, Paul.
Hi, Carla.
(They both look away.)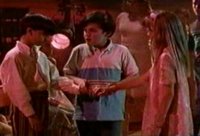 Carla?
(Kevin joins Paul and Carla's hands together.)
I think Paul over here has a little something to ask you.
(Paul looks at Carla in surprise. Carla smiles.)
OK!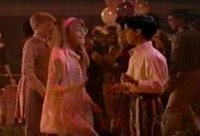 (Carla smiles and pulls Paul onto the dance floor.)
It was as sorrowful a spectacle as I had ever seen on the evening news.



See also Full Transcript




(Ep 8 - "Our Miss White")



(At rehearsal.)
OK. (Gestures.) Let's try it again.)
(She walks in front of the desk. Others follow her and take their positions. The camera pans with them as Carley sits at her little desk. Miss White guides Kevin into position a few feet behind Carla. Carla begins to "type", and Miss White nudges Kevin. Kevin approaches Carla.)
(As Robert F. Kennedy): I'm Attorney-General Robert Kennedy, and I'm here to see Mr. Hoover of the FBI.
(As a secretary): Go right in, Mr. Kennedy.

See also
Full Transcript


(Ep 10 - "Steady As She Goes")



(Kevin is now "going steady" with Becky.)
I knew it was despicable, but I couldn't stop thinking about all the possibilities - Becky and I sharing a carton of milk in front of Winnie. Walking past her locker with our hands in each other's back pockets. Maybe even a well-timed smooch out by the busses.
(Kevin meets Paul and Carla in hall.)
Hi, guys!

I'm really sorry, Kevin. (Frowns.)
What?
You must feel so terrible about it. (Frowns.) It's just so...
What? (Frowns.)
You mean you don't know?
What? (Frowns.)
Oh, God. (Sighs.) Me and my big mouth.
What?!
Paul, you'd better tell him.
Me? (Gestures.)
Paul!
Becky Slater...is breaking up with you.
What?! She's breaking up with me?
Oh, God. We didn't mean to tell you. We thought everybody knew.
(Randy pauses ner Kevin.)
Hey, Arnold. Tough luck about Slater.
(Randy walks off.)
Hey, I didn't even like her!
Kev, look, there's other fish in the sea.
I can't believe this. How could she break up with me?
Kevin, you really can't blame her. I mean it's so obvious.
What?
That you still like Winnie Cooper. (Gestures.)

See also
Full Transcript


(Ep 11 - "Just Between You and Me...")
(In the hallway, Kevin has just found out that Winnie is going on a date with Eric. Carla is in the distance.)
Hey, Kevin! Becky Slater wants to know if you're mad at her.



See also Full Transcript




(Ep 17 - "Nemesis")


(In the hallway, Kevin sees Paul, Carla, and Kirk frowning at him.)
You think I dance like a sea monkey?!
Uh-oh.
What's that supposed to mean, I dance like a sea monkey?!
Paul, I didn't call you a sea mon - well, OK, fine, I called you a sea monkey, but I -
Funny, Kevin. You're a real laugh riot!
Carla, you know how sometimes you say silly things that you don't really mean -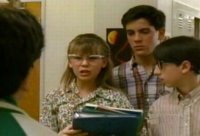 Like some people look like they're dancing in Jell-O?!
Yeah, that would be one. Kirk-bo -
What's your point, Arnold?! You think I'm stuck up?!
No, I mean, I -
Let's just get out of here, you guys! We don't need to hang around somebody like this.
Yeah!
Yeah!

See also Full Transcript




(Ep 18 - "Fate")


(Art class. Kevin is looking at Winnie. Carla is sitting at a table with her.)
So she'd heard about the great defense of the locker.
(Carla gets up and approaches Kevin and Paul.)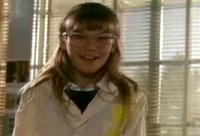 Hi, Kevin!
Hi, Carla!
(To Paul): Hi! (To Kevin): Is it true?
About what?
About Eddie?
Well...yeah!
Oh, God!
(Carla goes back to Winnie's table.)


*


(Kevin and Paul are looking at Winnie and Eddie in the distance. Carla walks by. Paul puts out his hand to stop her, and gestures with his notebook.)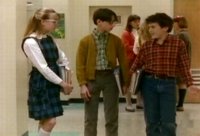 Carla, what's going on with them?
You mean, Winnie and Eddie?
"Winnie and Eddie". The sound of it made my heart sink.
They've been going out since last week. Didn't you know that?
But... why?
I don't know. Because she likes him.

See also
Full Transcript


(Ep 34 - "Don't You Know Anything About Women?")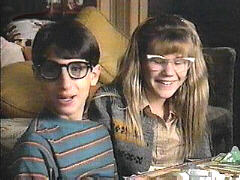 (Kevin, Paul and Carla are playing "Life".)
In the game of life, there are few certainties.
"Car Accident. Pay five-thousand dollars if not insured." (Smiles.) Cough it up, Carla. (Gestures.) Your turn, Kev.
In fact, most things are left to chance.
"Get Married". Gimme a pink one.
Who is she, Kevin?
Marsha Brady. (Nods.) No, no! Nancy Sinatra.
(Paul and Carla smile and giggle.)



*


(Paul is moping in the bleachers after breaking up with Carla at the dance. Kevin has just hurt Linda's feelings, and is now alone, too.)
In any event, Paul wasn't the only one who had been fooling himself.
(Over the speaker) This dance is for Paul, from Carla...hehheh.
(Paul stands up excitedly, and (off-screen) finds Carla. They dance.)

See also Full Transcript




(Ep 36 - "She, My Friend, and I")
(Kevin fixed Paul up with Winnie behind Paul's back. They have already gone out twice. Now, Kevin and Paul are at the lockers. Carla walks up behind them.)
Everything seemed to be fine at school. And, Paul was working out his problems with Carla...
(Paul sees Winnie in the distance, and trots off.)
With Winnie.
Thanks, Kevin. Thanks a lot! (Exits.)

See also Full Transcript





(Ep 37 - "The St. Valentine's Day Massacre")



(In class with Hobson.)
I know a few things about women. You should do what I do - forget 'em. Heh-heh.
If I could just get her to talk to me. I mean, it's just a...misunderstanding, right? Paul, what's that?
A valentine - for Carla.
Come on, Paul - this isn't kindergarten. She's never gonna fall for that.
You got any better ideas?
No...but that'll never work.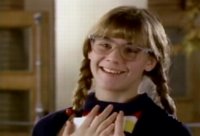 (Cut to the hallway as Carla looks at the valentine and smiles.)
Oh, Paul! This is the sweetest thing!
(Paul and Carla hug. Paul gives Kevin the "thumbs up" sign.)



See also Full Transcript





(Ep 40 - "Night Out")


(On the bus. Paul and Carla are sitting behind Kevin and Winnie.)
Well, I heard from Darlene Murphy that Johnny and Mary got back together.
No...really?
I heard from Susan Jacobs, that Darlene Murphy was lying...and that Mary and Johnny didn't get back together.
No...really?
Kevin!
(Winnie nudges Kevin. He smiles.)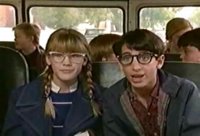 Well, I heard that Mary said that Johnny said...
Course, in eighth-grade, part of being a couple is doing what other couples do, even if it was, well...kinda stupid.
Hey, you guys want to go to a movie Friday night?
(Both): Sure! Great!
(Both): Great!




*


(Robbie Hudson is inviting "new couples" to his famous make-out party.)
Count me in!
Pfeiffer, right?
(Paul nods.)
Carla Healey, right?
Right!
Groovy.
Groovy! Wait till I tell her.


*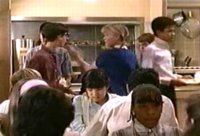 (Paul and Carla are standing face-to-face in the distance.)
You rat!
(She slaps him, spilling his tray. Kids laugh as she hurries off.)



*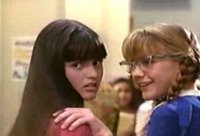 Hey guys, guess what! Carla changed her mind. Now we can all go together!
(Carla walks toward Winnie and leads her away.)
What are you wearing?


See also Full Transcript




The Little Women
Character "Clips"
Wonder Years Menu

12/05/14 18:50