Clarence "Tony" Barbella




(Ep 31 - "The Pimple")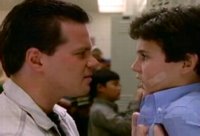 (Tony lifts Kevin and pushes him against the lockers.)
Ever have one of those days?
I hear you're telling people me and you got into a fight!
What?!
You heard me!
Listen! There must be some kind of mistake - I didn't get into a fight with you!
So why'd you say you did?
I didn't...exactly.
B-because I can tell you one thing. If Tony Barbella ever punched you, you'd end up with more than a just band-aid on your cheek.
(Tony pulls the band-aid off Kevin and sticks it on Kevin's shirt.)
Heh-Heh.
Alright, this was totally out of hand. I'd almost gotten myself killed by a guy who referred to himself in the third person.

See also Full Transcript




(Ep 37 - "The St. Valentine's Day Massacre")



(Kevin is waiting at the lockers, wanting to get Winnie's valentine back.)
The task was simple - stake out the locker. Reason with its owner, and, if necessary, kill to get back that valentine.
(Tony approaches, and spins the combo on the locker as he mumbles to himself. Kevin looks worried.)

Kill...or be killed.
(Barbella jerks on the locker, realizes his mistake, and moves over to his locker. He opens it and closes it, then looks at Kevin.)
You got a problem?
Me? Not a care in the world.
(Tony frowns and walks off.)



See also Full Transcript




(Ep 48 - "Ninth-Grade Man")



(At the lockers as Kevin and Paul see Tony.)
Tony?
Barbella?
Welcome back!
I thought he graduated...
I graduate every year.
Oh.

And this...is my locker.
Great. Three minutes into the new year, and the first face I see belongs on the wall of the post office. Still, I could handle this.
Uh, no, I don't think so, Tony. You see, that's your locker. Over there. Remember?
Oh, yeah.
Yeah.
So I guess I got two now, huh? Lucky me.
Yeah, but -
Do you think you could deal with that? B-because if you can't, I'm gonna have to take your thumb... and bend it back to your elbow.

Also Full Transcript




(Ep 63 - "When Worlds Collide")



(In the boy's rest room.)
By Friday, I guess I was feeling pretty lousy about what I'd done. Face it, what harm was Mom actually doing me?
Hey, buddy! I hear your old lady's working for the brass.
Ask a stupid question...
Tony!
Tony Barbella - RFK's answer to Java Man.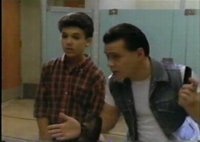 Listen, Arnold...you don't mind if I call you "Arnold", do ya?
Well -
See I need to ask you a favor...if that's alright with you.
Well -
I need a pass. You know the green ones - "get outta jail free"?
Oh...
And, uh, since you got, uh, family connections in the front office - I figured you were the guy to come to.
Well, Tony...of course I'd like to help you, but...just because my mom -
I understand the problems, the logistics. L-listen if you do this - I would...
(He takes Kevin's comb and taps it on Kevin's nose.)
Really...really...really...really, appreciate it.

See also Full Transcript




(Ep 68 - "Graduation")



(In the auditorium with Mr. Diperna.)
Alright, people. After my opening remarks...****...when your names are called, you'll walk up the right-hand aisle, to collect your diploma.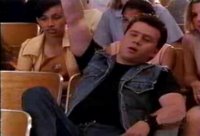 (Barbella raises his hand.)
Yes.
Do I get one this year?
(The audience giggles.)
I fail to see the humor in that, Mr. Barbella.
Just checkin'. (Smiles.)

See also
Full Transcript


Bottom-Feeders
"Clips" Menu

Wonder Years Menu

11/26/14 17:41