Mr. Altman - History




(Ep 56 - "The Candidate")



(Mr. Altman stands near the door as the bell rings.)
Alright, take your seats, please.
Maybe I felt a little guilty about what had happened. But not much.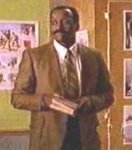 (Mr. Altman slowly walks toward the blackboard, holding a book.)
Today, we continue our survey of the Hundred Years War.
Besides, maybe now we could get down to a real campaign. Based on real issues. Real ideas.
(Mr. Altman looks at his open book, then reaches up and quickly pulls down a map. On it is a black-and-white photo of Wayne, with the caption "I am Kevin Arnold's brother". Kids start to laugh. Kevin looks over his shoulder at Becky, who looks at Kevin smugly.)


See also "Full Transcript"




(Ep 65 - "The Yearbook")



(Mr. Altman points to a map with a pointer.)
And so, the creation of two great nation-states...Germany, the epitome of power...and Italy, fountain of youth and romance.
(Kevin looks toward Brad on one side, and Marci on the other.)
Which, I guess, made me...Yugoslavia.
Both...
(Brad looks at Mr. Altman as he speaks to Kevin.)
Psss. Do me a favor. Pass this to Marci, OK?
(Brad holds a folded piece of paper toward Kevin.)
Sure.
That was me. Note-passer to the gods.
(Kevin looks at the paper, then hands it toward Marci, who holds out her hand.)
Mr. Arnold.
(Kevin and Marci jerk their hands back as Kevin looks toward Mr. Altman. Brad and Marci look down as Kevin hides the paper, slightly surprised.)
Uh...could you repeat the question?
I didn't ask one. (Shrugs.)
Oh.
But...
(Mr. Altman waves his pointer as he walks across the room.)
You might read the contents of that note you're holding.
This? (Points.)
Umm-hmmm.
(Mr. Altman gestures with the pointer.)
Why don't you stand up, and share it with the rest of us?
Uh-oh.
(Kevin stands up and unfolds the note, which reads "This class is SOOOOO boring!")
Hmmm.
(Kevin looks toward Brad, who looks blankly at Kevin.)
No help there.
(Kevin looks at Marci, who looks blankly at Kevin.)
No help there. So I was left with a choice. I could sink...
Uh...a dozen eggs...and a carton of milk...and American cheese.
(The class giggles. Brad and Marci smile.)
Is...that all? (Nods.)
No. sir. It also says...pimento loaf.
(The class laughs.)
Or, I could swim.
Class dismissed, Mr. Arnold. (Nods.)
Guess you could say I swam. Swimmingly.

See also "Full Transcript"




Teachers
Character "Clips"
Wonder Years Menu

11/28/14 19:00